When it comes to a business model and brand for your brewery, the sky is the limit for creativity. By choosing a unique personality and living it out with your products, staff, and structure you can stand out from the pack. Plus according to industry insiders we talked to in the craft beer distributor's guide, brand and culture are two of the most important aspects they consider when taking on a new craft partner.
Here are 5 breweries doing marketing differently:
Town Hall Lanes Brewery

Location
South Minneapolis, Minnesota
Unique Aspects
Full bar restaurant with a bowling alley that has 10 lanes and serves beer straight from their sister brewery just a couple miles away. The remodeled bowling alley had been in the neighborhood for over 60 years, which means the brewery is filled with stories and memories from past generations. With nods to it's storied history, Town Hall also plays to the current generation of craft beer drinkers with events such as "yoga and bowling" Saturdays and chili cookoffs at the lanes.
Website
Ballast Point Brewery
Location
San Diego, California
Unique Aspects
Celebrating their 20th anniversary in 2016, the home brew mentality which the brewery was conceived upon is still alive and well at Ballast Point Brewery. The brewers are often experimenting with new flavors, techniques, and ingredients in their R&D brewery where each employee has the opportunity to brew a beer themselves. The founders named many of their beers for fish or fishing terms so they always remember to "do what you love". Ballast Point has received the World Beer Cup Gold Medal and distribute their beer in over 40 states and internationally.
Website
Church Brew Works
Location
Pittsburgh, Pennsylvania
Unique Aspects
Attention to detail and the reuse of existing pieces are what make this church turned brewery fascinating as it connects the past to the present. Originally built in the early 1900's the church was renovated in 1996 to what is now known as Church Brew Works Brewery. Original pews were shortened to fit the dining tables, and with the access oak from the pews the bar was created. A confessional was removed to make way as a link to the kitchen. The most fascinating element of the brewery is the brew house which sits in place of what was once the alter, becoming the centerpiece of the building.
Website
New Belgium Brewing
Location
Fort Collins, Colorado
Unique Aspects
New Belgium Brewing prides itself on sustainability. That's pretty remarkable considering, as of 2015, they are the fourth largest craft brewery in the United States and produce such well-known labels such as Flat Tire and Citradelic. New Belgium recently celebrated its 25th anniversary and is one of only a handful of American Craft Beers to make it to the quarter-century mark.
New Belgium has a philanhropy mission and that is witnessed in the commitment to donate $1 for every barrel of beer sold to non-profit organizations (so far they have donated more than $7 million) and the fact that over 99% of their waste is diverted from the landfill and they are a Platinum certified Zero Waste business. Another special feature of the brewery is the Tour de Fat event, which is a celebration of the bicycle as a sustainable source of transportation. The brewery has a program to get kids of all socio-economic classes riding bikes.
Website
Brewery Ommegang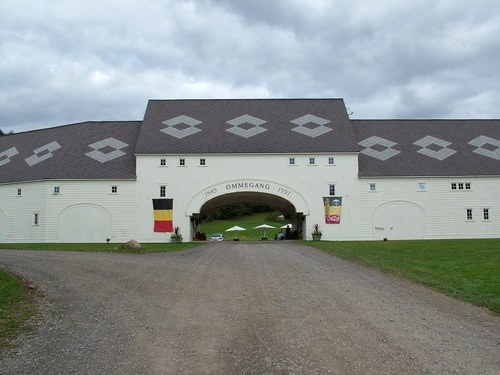 Location
Cooperstown, New York
Unique Aspects
Sitting on 136 acres, Ommegang is known for its grand entrance and is often used for special events such as weddings. In the summertime, the brewery serves as host to Belgium Comes to Cooperstown, a large beer tasting event with four hours of unlimited beer sampling of more than 200 Belgium style beers. The brewery is also celebrated for its Game of Thrones themed beers based off the vastly popular HBO series. The special collection includes beers such as Three-Eyed Raven and Seven Kingdoms.
Website
Remember, branding and culture are almost as important to your craft beer business as what's in the bottle or can. Find out the other priorities for distributor and retail partners in this guide: