Does your pharmaceutical manufacturing process call for mixing or agitation? Agitation is commonly achieved through the use of bottom-mounted magnetic or top-mounted gear driven mixers. While mixing may just be one component of a large scale project, the type of mixer you choose will impact your entire process.
Mixers can be used to keep a product homogeneous, to enhance heat or mass transfers, or to promote chemical and biological reactions. There are many common mixing processes used in the pharmaceutical industry, and choosing the right mixer is highly dependent upon your agitation needs. Below we have outlined a few considerations which will help ensure you are choosing the best mixer for your project.
1. Consider Your Fluid
First, you must understand the fluid being mixed. If it is just one product in the vessel, the viscosity is the main consideration in achieving the proper agitation for your process. With two or more fluids in your vessel, miscibility and aggregation will determine which mixing process you will utilize. The products' behavior and shear sensitivity will also help decide the level of agitation intensity that is needed. In general, top- or center-mounted mixers are better suited for products which require aggressive or rapid blending. While bottom-mounted magnetic mixers are good for easy, gentle movement of product in your vessel.
2. Understand Your Flow Pattern
The design of your tank also plays a crucial role in your mixing process. The shape of your tank and the position of your agitator will define the flow pattern of the mixture. Magnetic mixers are placed at the bottom of the tank creating a top to bottom vortex, while top-mounted mixers can be located in the center, or offset, allowing for more flexibility in the flow pattern.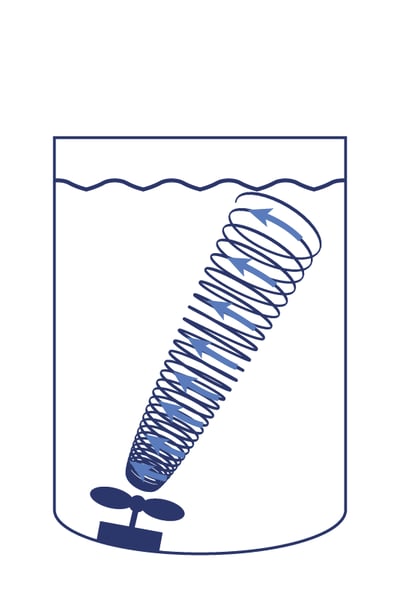 For more information about impellers and flow patterns, see to How to Choose the Right Impeller.
3. Know Your Deadline
With research, testing, and regulations getting your pharmaceuticals to market can be a lengthy process, and purchasing custom equipment can have a big impact on this schedule. It is important to find an equipment supplier that can provide everything from mixers to tanks and skids. A total solution provider can design all your equipment needs, so you don't need to work with multiple suppliers. This will result in you getting your equipment faster.
At Paul Mueller Company we have been designing and manufacturing pharmaceutical equipment for more than 40 years. We understand mixing needs and how they can improve your process.
today for a free consultation.
Planning that next project? See how a modular skid system can benefit your timeline and your costs. Want to design your own? Check out our
and start building.