3-A Sanitary Standards are the industry standards governing how food and beverage processing equipment is built and handled. They were originally developed by three different interest groups representing regulators, equipment manufacturers, and processors. These industry standards are developed and maintained by 3-A Sanitary Standards Inc. which is an independent organization dedicated to improving the design of food and beverage equipment for sanitary purposes. The 3-A Sanitary Standards were created to accomplish two goals - protecting food and beverage from contamination and ensuring all equipment parts and surfaces are cleanable.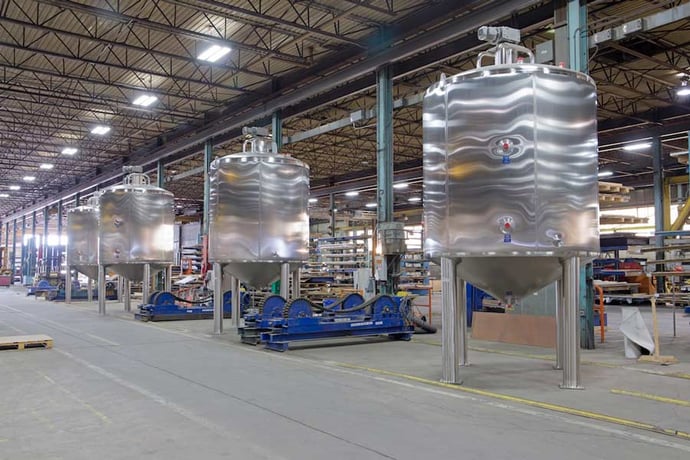 Protection from Contamination
3-A Sanitary Standards provide a framework for healthy and safe food. Protecting food from contamination involves having the right policies, processes, and people. The 3-A Sanitary Standards add to this by testing that the equipment used by people to process food is safe from outside contaminants. Protecting our food often starts with the quality and finishes with the equipment it is processed in. The 3-A Sanitary Standard helps assure this critical element in our food supply chain.
Ensuring Cleanable Equipment
When cleanliness is brought up in relation to food safety it is a stricter clean standard than most folks use in everyday life. Food processing cleanliness involves eliminating harmful contaminates from anything that may be involved in the manufacturing process. The goal of having cleanable equipment is not about having equipment that looks good and shines but rather about removing anything that might cause harm to the end user. This involves two steps:
Mechanical cleaning of equipment
Manual cleaning and inspection of equipment.
Food processing equipment manufacturers have integrated cleaning-in-place, or CIP, technology in modern equipment. This allows the pipes and inside structure to be cleaned automatically by flushing water and solvents (either an acid or an alkali). This method allows the equipment to be cleaned without the risk of recontamination from manual cleaning. Mechanical cleaning isn't always perfect though which means there will be times when the equipment needs to be disassembled and inspected for manual cleaning. This is why 3-A Sanitary Standards are important; they ensure that your equipment is designed so that it can be fully cleaned.
At your request, Paul Mueller Company can follow strict 3-A standards for your food and beverage equipment manufacturing. To see how we can secure your production process, sign up for a