We often hear the question: "Is it more economical to build a tank in your shop or here in the field at my
facility?" The answer really depends on 4 factors:
Prior to preparing a proposal for this 20 foot diameter salt crystallizer, we researched the transportation along with
multiple facility spaces, access and size challenges. With a focus on finding the most economical solution
for our customer we confirmed a transportation route, built a new door and developed a custom
fabrication plan.
During the analysis of the project it was determined that a field construction plan would be far more
expensive than producing a completed vessel in our shop right here in Springfield, Missouri and that included the extra steps on handling and delivery.
However, field construction can be the right solution depending on these 4 key factors:
Destination
Very large tanks can be shop built, as we showed you above. But there can be restrictions, depending on unlimited variables. Economical transportation is often the most important of those. The final destination of the equipment can determine the cost drivers for permitting, route planning, driver scheduling and logistics. Often, regulations to head east in the United States are far more restrictive than a vessel headed west or south, therefore costs are affected accordingly.
Tank Size – Width x Height
Diameter, length, thickness, shape and orientation also play critical roles in determining the shop vs. field option. A 20-foot diameter vessel can be hauled economically if its overall height is less than 10-feet and is structurally designed to be positioned on the trailer vertically. These variables are given strong consideration and a customized approach is applied for every proposal to present the best on budget and on time solution to our customer.
Schedule
Your timing and your manufacturer's capacity are critical to both the proposal and fabrication processes. When you need a vessel built on a compressed schedule, often the field team can mobilize and complete the project at your site faster than waiting for space inside the shop. Building outside and adjacent to the shop can sometimes be done to accommodate space limits, however the construction risk due to the elements are considerations and could drive up costs.
Site Conditions
Finally, it's important to understand where the tank is going to be located. Site conditions may not seem relevant during the proposal process but they can destroy a good plan if the final destination is not prepared. Access, location, foundation, ancillary equipment, overhead, hazardous environment, restrictions and many other variables inform the plan around the other three factors mentioned above. For example, sometimes customers will need to take a wall down to get their fully-constructed tank through that opening. It could be safer and more cost effective to bring the pieces through a small access area or doorway and have the tank field erected inside of the building.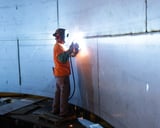 Recently we worked with United Ethanol in Milton, Wisconsin where they needed to construct a new tank inside a building. Their vessel located inside a building sustained a significant amount of damage due to vacuum. Other fabricators told UE they would need to remove the roof to build that new tank, but Paul Mueller Company was able to come up with a custom solution that didn't remove the roof, fixed the tank, and saved them money. You can watch the full story here.
If you are ready to consult with an expert on the variables at your facility and the new equipment needed, allow our team to visit your facility and help you craft a plan that's on time and on budget. Contact Paul Mueller Company for more information.