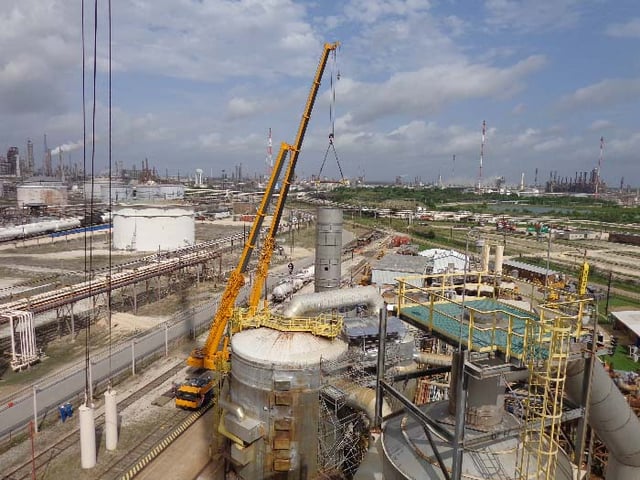 We often have a small window to construct new tanks on-site due to working within the duration of a planned shutdown. This particular job took that concept to a whole other level. We only had one month to demolish two existing tanks with peripheral structures and fabricate a new tank in its place.
Solvay - Baytown, Texas
The Solvay project was one of the most challenging jobs Paul Mueller Company completed, because of the tight time schedule. Demolition and new construction of a tank and stair tower, duct work, and structural work were all included in the scope of this Texas project.
| | | |
| --- | --- | --- |
| | | |
| Partially constructed stair tower adjacent to the original tank | Field technicians guiding duct work into the proper place | Demolition of the original tank during the plant shutdown |
The tank weighed more than 1 million pounds and was 75 feet tall and 33 feet in diameter. It had another shop-constructed tank, a complex shelf system, and shell-in-tube heat exchangers inside it. Due to the complexity of the project, the tank was built conventionally on a temporary foundation. The tolerance for this project was too small for the tank to be fabricated using a jack system.
Demolition of the old duct work and tank occurred during a month-long shutdown period in which the new tank and duct work also needed to be installed. An hour-by-hour all-day and night work schedule was created as part of the project bid for the duration of the shutdown to ensure the plant could reopen on schedule.
The welds for this job were thoroughly inspected with both dye pen and x-ray. Out of the 16,000 feet of welds inspected, only two inches needed to be repaired because of the thoroughness of the new welding procedure used by Paul Mueller Company called "back purging."
We Can Work Within Your Planned Shutdown
No job is too big a challenge for Paul Mueller Company. Let us help you plan your next shutdown. We can work within your schedule to make your next field construction project a success.