You have the difficult task of identifying processes in your facility where you can "go green". There are hidden opportunities throughout your plant to be more sustainable and efficient, but you need someone who's an expert on the subject to pinpoint them and provide solutions. If your company is implementing or has implemented a comprehensive sustainability policy, heat recovery may be a way to reach your goals. Here is one example to get you thinking about your specific opportunities.
The Energy Recovery Process
We partnered with a chemical processing plant in Alabama in an effort to recover some of their valuable wasted heat energy. During their manufacturing process, the company was using large amounts of energy and emitting hot gases into the atmosphere at 300°F. The exhaust contained various volatile organic compounds and fibrous materials that had to be eliminated to comply with local air regulations and to be kinder to the environment. To do this, the company used a natural gas thermal oxidizer to heat the gases to around 600°F, burning off pollutants and converting contaminated gases into environmentally safe gases.
The cleaner, superheated gas was then discharged into the atmosphere, along with all their energy dollars. The solution was a Paul Mueller Company Temp-Plate® Energy Bank.
Now, the superheated gas passes through the Temp-Plate Energy Bank before escaping into the atmosphere. The gas heats a process fluid from 85°F to ~150°F as it flows through the energy bank. Then, the process fluid is pumped to other locations within the plant where the heat can be utilized in other applications.
Over $1,000,000 in Energy Savings
By now utilizing the wasted heat energy, the Alabama processing plant has been able to save over $1,000,000 in energy costs. The investment into sustainable technology has benefited both the plant and our customer's bottom line.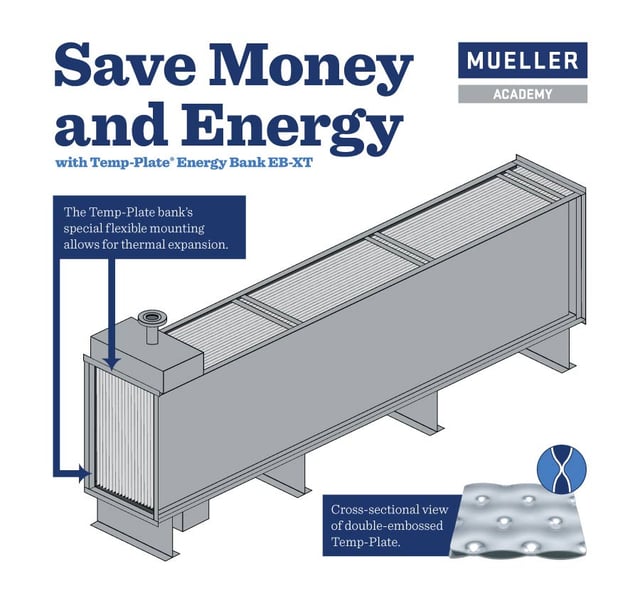 Paul Mueller Company is proud to partner with those committed to sustainability. If you are interested in how you can make your processes more efficient, we would be glad to help. Visit our
page to get in touch with one of our experts or click below for a Heat Transfer Consultation.
See how custom heat exchange technology can save energy in your process by chatting with one of our experts today.