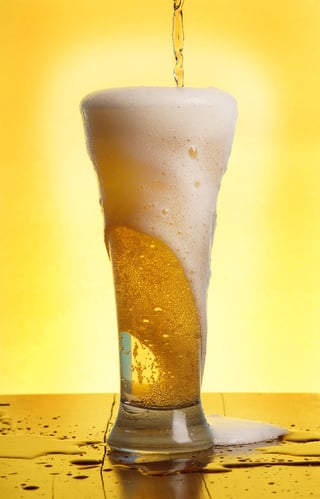 In your brewery, overfilling is never good. Most of the time you are only losing a couple cents worth of beer when an impatient bartender doesn't wait for the foam to go down, but if your fermenters and bright tanks don't have enough vacuum relief, you could lose your entire tank.
Ashton Lewis, Master Brewer-in-Residence for Paul Mueller Company demonstrates how fast tank overfill can lead to beer siphoning out of the vent line.
Overfill the Tank
In this demonstration Ashton uses a gas can to serve as the model bright tank. The can is sealed up to demonstrate what happens when you don't have enough vacuum relief or when your relief valve is malfunctioning.
Ashton fills the tank with water until it too full. Water begins to drain from the vent tube.
Cut off the Supply
Once Ashton realizes he has overfilled the gas can he shuts off the inlet valve to prevent from further overfilling the can. The can continues to siphon out water through the vent tube.
Slow Vacuum Failure
As the can siphons out water it slowly begins to suck in. Atmospheric pressure causes the can to crumple as more and more water is siphoned out. This can be very devastating to a jacketed tank because you will not be able to see effects from the outside.
The can continues to implode until there is a a big enough failure in the metal to allow air inside.
How to Prevent Vacuum Failure
To prevent your tanks from experiencing overflow vacuum failure you must have a vacuum relief valve that is sized appropriately for your situation. It is also important to perform regular maintenance on your vacuum relief valve so that it is always functioning properly.
Overflow vacuum failure isn't the only situation that can implode your tank. Other scenarios you can face in a brewery include hot CIP vacuum failure and caustic vacuum failure.
If you are looking to purchase a new vacuum relief valve, take a look at our
. It is a great tool that will prepare you to make a very important buying decision.
---