Duplicating an entire brewhouse and cellar facility might seem daunting to any brewery owner. Where to start? From the idea, to the blueprints, to the design, to the build phase and startup, every step is critical in the desired outcome of making MORE great beer.
The Customer
Green Flash Brewery was ranked as the 37th largest brand in the United States in 2016 by the Brewers Association. They know a thing or two about growth. After seeing big success at the California location, Green Flash outgrew production capacity. They decided it was time to push onward and upward to the east coast to meet demand on the other side of the country.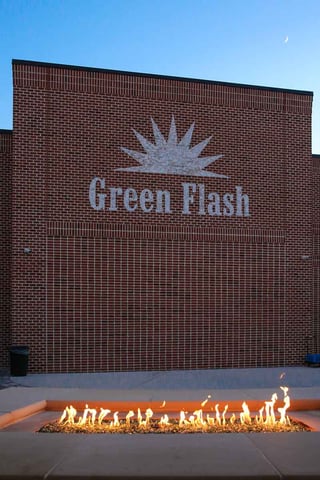 The Challenge
Green Flash contacted the Paul Mueller Company, their partner in building the first brewhouse, to build a duplicate facility in Virginia Beach, VA. Green Flash knew engaging their equipment partner early on was crucial to the success of the project and its timing. Plus Green Flash was asking Mueller to provide the entire scope of work this time which meant process piping, automation on the brewhouse, cellar piping and installation.
"When a brewery adds a facility on the opposite side of the country the reason is typically distribution costs. Beer is mostly water and it's heavy to truck it all over the country," says Jessica Presley, product manager for Paul Mueller Company brewery group.
"So the challenge here was to duplicate the brewery so the product can stay as consistent as possible, so it's on brand. Anytime you're making the same product in multiple facilities, that consistency is absolutely critical so customers don't know if their West Coast IPA was made on the east coast or the west coast, they just know it tastes good and it tastes the way they expect."
The Solution
Paul Mueller Company's brewing equipment engineers worked closely with Green Flash's head brewer to define the process. From there, Mueller engineered a customized solution that would allow Green Flash to meet production goals in the greenspace where they were building their new facility.
"So the solution we used to make sure a consistent product happened, started with due diligence," says Presley.
"We took a trip out to San Diego to see the integration, to learn what they like, what they didn't like, things that were critical that we duplicate, as well as things they'd like to improve. We took our time with scope development and understanding what our customer needed in their new facility. We have learned the places it's okay to change, the places where it needs to stay the same and we've successfully executed a duplicate brewery all while staying true to brand."
The brewhouse was built with U.S. stainless steel in the shop at Paul Mueller Company's main facility in Springfield, Missouri. Everything was piped up, connected and tested. Then the brewhouse was pulled apart with as few disconnects as possible and shipped in as big of pieces as possible.
"Then we go out and set the system back up, we have had some customers who try to do that themselves, it's so much better if we can pull our field operations team in, just put the whole thing back together. Seamless transition from shop build to installing the facility."
Paul Mueller Company's field operations and brewery crew set up all equipment including utility piping, electrical installation, and equipment commission. Then they worked to set up the automated cleaning system and stayed onsite through startup. The startup includes multiple successful automated batches of wort production with Green Flash's Brewmaster to make sure all the equipment and controls are working the way they should be working.
"We want to make sure they get to a successful process as seamlessly and easily as possible"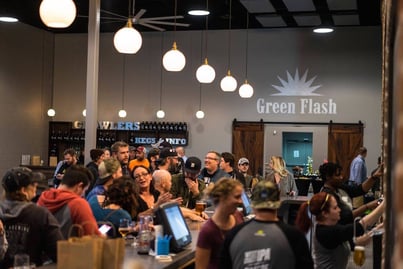 November 2016, the first batches of Green Flash beer came out of the new facility and a grand opening was held
The Result
In the end Green Flash got a 250,000 barrel production brewery to solidify their status as a craft beer force to be reckoned with and Paul Mueller Company got the chance to collaborate on a deep level for a ground-up, showcase facility:
"They love it, they loved the team we had there, walking in is like walking into Cheers, it's like 'Hey Norm!' " says Presley.
"So I think one of the biggest things to come out of this project are these lasting, strong relationships we have with the brewers, it's an ongoing partnership. Green Flash built a beautiful brewery that's made them a go-to destination in the Virginia Beach community and it allows them to keep their beer consistent, repeatable and fresh for their fans to drink all over the country."
Considering duplication or expansion of your growing beer brand? We can help make it a reality: