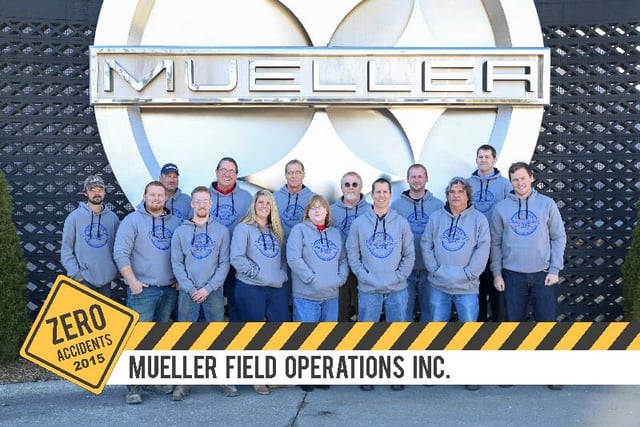 Zero accidents in the field since May 2014. That's the safety record that has helped Paul Mueller Company's Field Operations Team become a preferred supplier in the industry.
The most amazing part of that statistic is our Field Operations achieved this accident-free period while performing many difficult jobs across the country which forced us into challenging situations with space restrictions and many potential hazards.
So how do we do it?
The team minimizes risks by carefully assessing situations prior to starting work on a job and takes note of impending challenges. We plan for safe job execution by adjusting repair techniques to the different work environments such as using a top-down tank construction technique, instead of conventional tank construction.
Our customers hold us to a very high standard of safety because of the heavy equipment and materials we work with and work site restrictions encountered. Because of those high standards, the Mueller Field Operation's (MFO) safety program has been completely revamped in the last two years. New procedures are compliant to OSHA, ISNetworld, and customer requirements. The program is designed to implement best safety practices in the industry. Updated safety procedures were re-written by the team and employees have been thoroughly trained and certified to safety programs such as Confined Space, Fall Protection, LOTO, Rigging, Scaffolding, and Haz Com.
We are continuously improving the safety program in order to stay up to date with changes in requirements and to advance the safety of all employees. MFO's safety program is unique because the customers have easy access to the documented safety program and training records via an electronic safety tablet on every job site.
Training records are extensive and include all of the employees' training certificates, training class attendance records, and a copy of the employees' certification tests (100% pass rate required).
Mueller Field Operations is a member of ISNetworld (ISN), an online contractor management database. Based on data submitted by MFO related to health and safety, procurement, quality, and regulatory information, a letter grade is given by each client customer that reflects how qualified a company is to perform jobs safely. At the time of publication of this blog MFO had an "A" grade.
We are committed to continuing our zero accident safety record and are prepared to safely complete your most difficult jobs.
---
Do you have a tank in need of repair and unsure of your options? We can help you understand your options and advise you on the best way to get your operation back to full capacity.