Stainless Steel processing tanks have a long lifespan if they are constructed well and given proper attention. The care of your tank begins with the concepts and properties in the design stage and continues through years or even decades of use.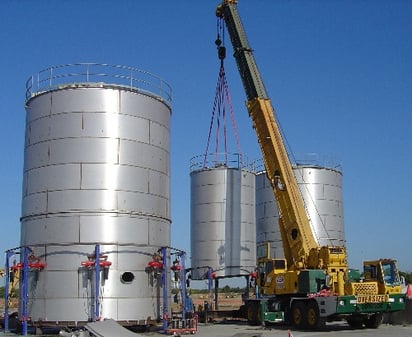 Spec Your Tank Correctly
The functionality of your tank must be considered first. Not only do you want to pick the right material and finish for your tank, but you also need to match the operational requirements to the design. Here are some questions to consider:
Do you plan on doing hot work?
How do you plan on cleaning the tank?
Will it be inside or outside?
What safety and health standards will you need to meet?
Failure to consider all of the specifications will cause various problems over the years and your tank could operate at a less-than-optimum level.
Only Run the Horizontal Agitator When There Is Enough Media to Cover the Blades
Years ago we heard from a manufacturer who would run their horizontal agitator while their tank was empty. Next thing they knew, the agitator was flopping around inside their tank. Running the agitator empty can cause the blades to bend and warp. When this happens the agitator becomes imbalanced or even worse it can detach. Make sure you have enough media to cover your blades before running the agitator.
Train Staff That Will Be Working with the Tank
Prior to tank use and maintenance, make sure those who will be working with the equipment are familiar with it's functions and mechanics. The more people who know the basic information about the processing equipment the better, such as:
where the gauges are located
what media will be running through which pipes and valves
when to run what media
the proper care equipment must receive in order to run efficiently
The more attentive people are with equipment, the easier it is to identify problems when they occur. Performing routine visual inspections is great way to keep your tank running at peak performance levels. Check out our maintenance checklist and catch small problems before they turn into large problems that negatively impact production.
We saw this example play out with a customer who was performing a visual inspection on their tank and noticed a leak which they thought was product. This customer promptly called Paul Mueller Company to repair the leak. After arriving on site, it was found the heat transfer was leaking, not product. This customer did a great job of acting quickly on a small problem before it became a greater nuisance.
Let the Tank Cool down Before Filling with a Cold Media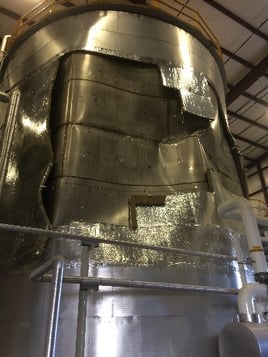 Time and again, we receive calls from customers who have imploded their tanks by filling it with a cold media before it's properly cooled down. Combine this with a tank that doesn't have proper ventilation and it's a recipe for disaster. It is important to not only maintain proper treatment of your heating and cooling media, but also to know how much time your tank needs to cool down. Read here about more reasons your tank may implode.
---
If you're ready to repair some equipment in your facility, prepare for the estimation process with this handy assessment guide: